Sport fishing in Florida is one of the most beloved activities for locals and tourists alike. With more than 2,200 miles of tidal shoreline, there is little doubt about why so many people enjoy sport fishing! Also known as deep sea fishing, offshore fishing, or big game fishing, sport fishing involves fishing in waters that are as deep as 100 feet, or more. Sport fishing is only possible by moving some distance from the land (which is why it is often referred to as deep sea fishing). One of the best parts of sport fishing is that you can truly connect with the natural wonders of the ocean, while catching some great fish. Plus it can be quite adventurous!
Sport fishing has in Florida offers many varieties of fish to catch. As you get deeper into the waters, you can reap some amazing catches. From Cape Canaveral, Melbourne, and Sebastian Inlet, on down to Fort Pierce, Stuart, West Palm Beach and Fort Lauderdale, the best sport fishing will be in the cooler months that bring fish like Grouper, Cobia, Kingfish, Black-fin Tuna, Sailfish, Pompano, and Spanish Mackerel. Summer is pretty awesome too though, so be ready with permits for catching Snook and Tarpon. You might also really enjoy offshore battles with Wahoo, Mahi-Mahi and an occasional Blue Marlin during the summer months.
Top South Florida Fish to Catch
TARPON:
Sometimes called the "silver king of sportfish," the tarpon is highly prized for its fighting ability. However, while Tarpon is edible, it is not eaten because it does not taste good. Tarpon is one of Florida's most popular gamefish. It is especially plentiful off Florida's west coast, but there are some good locations along the east coast of the state as well.
SAILFISH:
The sailfish is Florida's official state saltwater fish. Known as a tackle buster, it inhabits tropical and subtropical waters. The sailfish has a well-known outstanding feature and that is its long, high first dorsal fin.
SNOOK:
Highly sensitive to changes in water temperature, Snook are found in Florida's warmer waters. Snook are a strong, voracious predator that can will rip a fishing line to shreds. Great sport on light tackle, Snook are a crafty adversary, but well worth the effort required to catch. Plus, Snook taste very good!
SNAPPER:
Snapper is an offshore species usually found in 60 to 440 feet of water. Red snapper with its pinkish/red color and pointed anal fin, is distinguished from other members of the snapper family. Red snapper is considered to be one of the finest food fish found in Florida waters.
MACKEREL:
The Mackerel family includes both King Mackerel and its smaller cousin, Spanish Mackerel. These fish can be found in the Atlantic, all along the Florida coast. One of the Florida's top ocean predators, Kingfish are the favorite target of tournament fishermen.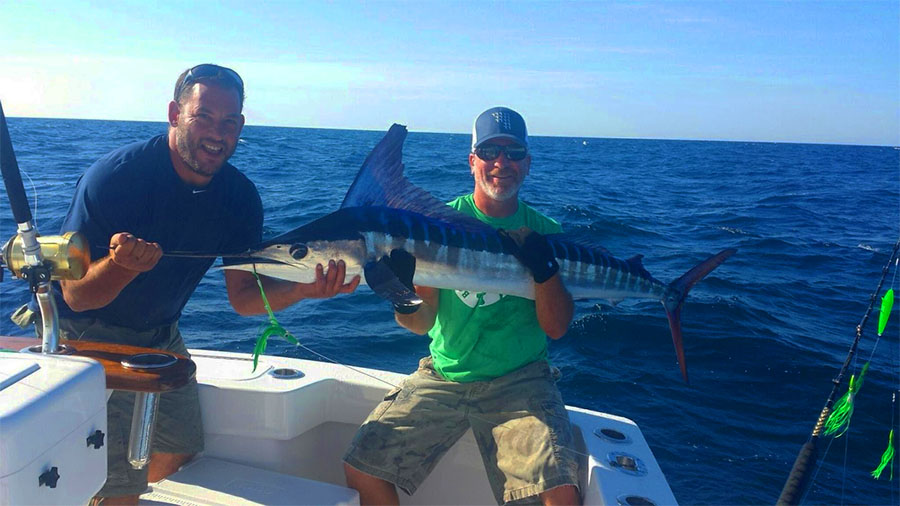 So, What Season is Best for Sport Fishing in Florida?
Typically, summers in Florida are the best times to head out into the deep sea for some offshore fishing for some very good reasons. For one, the temperature of the water is higher, and fish are more active. Secondly, the migration patterns of a number of offshore fish bring them closer to home, and closer to your boat. This is because summer is when the sea abounds in aquatic creatures like crabs, squids, and anchovies, which are what many deep-sea fish feed on.
More specifically, the months from June to September (and, some years, even October) are when you can strike gold as you go fishing in the deeper waters of the ocean. In South Florida, for instance, the summer months are the prime times when you can catch some amazing species of fish like rockfish, calico bass, halibut, white-sea bass, sand bass, rock cod, and even blue-fin. Northern Florida doesn't fail to keep up either, with areas like St. Augustine and the St. Petersburg Pier abounding in both common and exotic species of deep-water fish, including mahi-mahi, sea bass, and snapper.
Fishing in the deeper parts of the ocean is also easier in the summer, because visibility in the water is best, and you can make use of common aquatic prey (like soft-shelled crabs) to lure your targets closer. Fishing is always a challenge and that's what everyone loves about it! But for sport fishing, there's no better time of year, and place, than the summer months in Florida.
Visit us in Stuart, Florida to see our latest walk-around sport fishing boats, or call us at 772-288-2291 with any questions. Be sure to check back regularly for more information about our products and services at L&H Boats, as well as for useful sport fishing news and tips. If you have any questions about our site or, any other matter, please get in touch via our contact page.