Recreational anglers love the fact that they now have the ability to report and log information about their recreational trips and catches through various mobile applications for sports fishermen. The latest fishing apps especially meet many needs for saltwater anglers, from marine charts to weather forecasts and even digital tournament platforms.
Since smart phones are as popular as pizza in today's world, it is only logical that fishing apps are also proportionately popular. The utilization of smartphone technology during sports fishing trips has become widespread. Plus, an added benefit that centers around the latest smart phones, including Apple iPhones, Samsung Galaxy, Google Pixel and Huawei phones, is that they are water-resistant. That means they are better able to defend against inevitable spray and splashes.
Social Media, according to anglers, adds to the fishing-friendly apps for Android and iOS operating systems are bringing people together through various social media. Some social media venues offer real-time fishing conditions, help locate fish and record boat routes. They may also offer various other functions as well. Whatever your desire, as far as fishing information is concerned, there's likely an app for it. Below are some fishing apps that offer just some of what's available to anglers.
1. MyFishCount Electronic Reporting Mobile App: The app is available for free download at the Google Play and App Store, or through the MyFishCount website at www.myfishcount.com.
In addition to providing information to fishery scientists and managers, anglers have the ability to access information about their previous trips and catches. The MyFishCount app is easy to use and instructional videos are available via YouTube. Once a personal MyFishCount account is established, fishermen may report information about their fishing activities, including species kept and released, the length and number of fish released, catch location, depth fished, gear used, release treatment, reason for release and more. Anglers can also report trips that had to be abandoned due to poor weather conditions.
2. REELPhoto: This app is the first social network built to share photos and videos.
You can like and comment on them, as well as tag all of your friends. REELphoto supports anyone who likes or participates in legal fishing and outdoor activities. The favorite core feature of REELphoto is the ability to actually watch the feed of photos and videos as they come in from users you're "following".
3. FishBrain: This app is heralded as the app for people who love fishing! It allows you to connect and share.
You can share your catches with people who have similar interests. It also allows you to join the largest network of anglers from all over the globe. Fishbrain gives you the data you want most. With this app you can discover where to fish, when to fish and what's likely to strike. The developers have crunched the numbers so you can spend more time doing what you love. You can also track what works, what doesn't work and how you can be better next time. It's your personalized fishing logbook. Note: This app is very popular with anglers.
4. FindMeFish: FindMeFish has been described as the angler's water cooler for the information age.
This is an app that lets you buy the best fishing spots in an area (using GPS). The system is simple: you sign up, and you can either pay for reports from other anglers (which usually run about $5 or less) of their fishing hotspots and experiences. The reports have specific GPS data to lead you to the perfect spot, date/time/weather information to help you zero in on the target spot. Very interesting.
5. IGFA Mobile Lite: Want to know how your catch measures up to the world's greatest?
The entire IGFA world records database is right at your fingertips with this app! The International Game Fish Association, the world's foremost global authority on record-breaking fishing, is the developer of the App anglers want. The updated IGFA Mobile App for the iPhone, iPad, and Android is designed to inspire your fishing adventures. Searchable by vacant, approved, or pending records, the world records database makes selecting your next record fishing target easy as pie. The App is automatically updated with the real-time records when it is opened and connected to cellular or WiFi signal and is stored for easy access in the phone when offshore and out of connectivity range.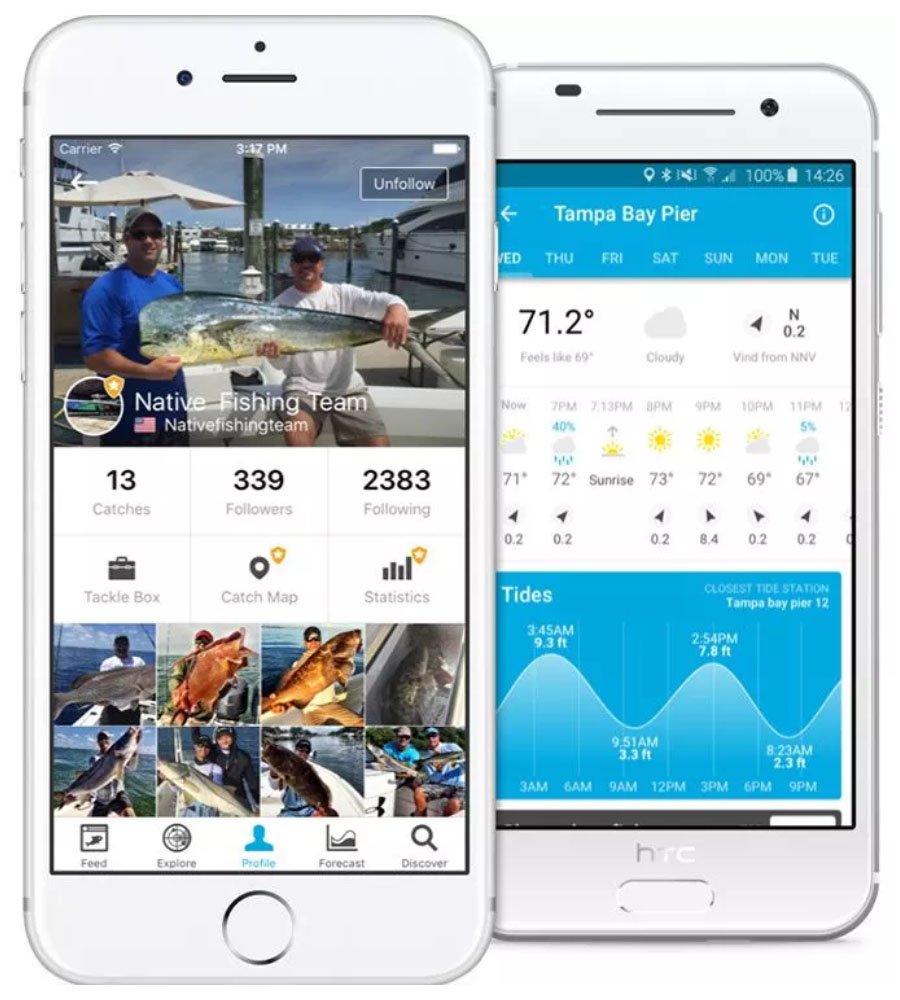 6. Fishing Knots: This is a free app program showing anglers how to tie knots.
It helps familiarize them with the many knot types and how to select and use 'the right one. It answers questions like 'How does the knot weakens the fishing line?' Which knots should you use for thin fishing lines, and which - for thick?' The app contains different type of knots for: Binding of two fishing lines; Tying leads; Attaching large and small hooks, baits, lures, swivels; Connection fishing lines and the binding cord; Tying a boat and more. For each knot, tying methods is described in detail. Also, a description of each knot contains step-by-step guide "How to tie" with illustrations.
7. ProAngler: Get weekly location reports from veteran captains and angling authorities with this app, including over 15,000 GPS Hot Spots, Radar weather, Tides, 350 Saltwater Fish Species in over 500 locations.
This is the Fishing App with the Fishing Spots, Marine Weather, Tides, and Angler Fish Species in over 500 fishing locations. Fishermen use this app to find where the fish are and what they are biting on from local pro's, every week. The app lets you find any marina, boat launch, etc. near your location, and gives you angling tips and handling tips on every possible species of saltwater fish that you might run across or be targeting. The upgraded version tells you the best times to fish based on where you are.
8. Trimble GPS Fish Free: The Trimble GPS Fish Free allows you record fishing trips, keep a daily report of your catches, mark GPS waypoints like docks, fishing hotspots, and underwater features.
You can also track your boat drifts, trolling paths, and routes from one location to another, share fish photos with friends, view topo, aerial, and street maps, and see basic weather reports.
Visit L&H Boats in Stuart, Florida to see our latest walk-around sport fishing boats, or call us at 772-288-2291 with any questions.
Be sure to check back regularly for more information about our products and services at L&H Boats, as well as for useful sport fishing news and tips. If you have any questions about our site or, any other matter, please get in touch via our contact page.