The Five Most Popular Fall Fish
Mahi Mahi
. Mahi Mahi are generally most active from 200 feet of water to 600 feet of water and farther out. Deep sea fishermen are catching Mahi Mahi from 10 to 35 pounds during the current fall season with rigged ballyhoo and with trolled bonito pieces. The smaller Mahi Mahi, also known as "schoolies" are mixed in with the bigger Mahi Mahi. The large groups of Mahi are searching mainly for schools of ballyhoo that are migrating down the coast.
The truth is there really isn't a bad time to go Sport Fishing in South Florida! However, if you are looking to fish for particular species you might want to take advantage of the great fishing during the fall months. For many anglers, the fall, through November, has been designated by many as the best time for fishing in South Florida.
Fall is the time of year when the weather starts to turn cooler. For fish, that means migration time and coming in closer to the warmer waters near the shore. For anglers, that means the bigger fish that are predators are going to be around as well because they follow the prey fish. Right now, anglers are catching lots of Mahi Mahi. Also plentiful now are Snapper, Kingfish, Bonitos, Barracuda and Grouper!
Spotted Sea Trout
. One of the most popular gamefish in Florida, Spotted Sea Trout don't have a closed season in Florida's Atlantic waters, but they are especially bountiful in the fall. Anglers agree that they are fun to catch as well. They bite on just about any bait you choose to utilize.
Snook
. Snook are almost entirely exclusive to the Florida coast. That makes them a very desirable fish for tourists as well as with local residents. Snook are in season from September through mid-December (and again after January) especially near Port Canaveral. However, you can catch and release them all year round. There are strict regulations on snook, so be sure you are aware of the restrictions which have been placed on fishing for them with express purpose of keeping the population strong.
King Mackerel
. Also known as Kingfish, are predator fish that migrate south every fall in order to spend their winters in the warmer waters of the Florida Keys. It is well known to anglers that they are likely to have their best luck with mackerel in the fall as they travel south.
Grouper
. Grouper. All types of grouper can be caught during the fall months in Florida. Grouper are popular for a lot of reasons. They are great for eating and they offer a good fight for anglers. Grouper are bottom dwellers. They especially like fresh bait and can become quite large. Plus, you can count on them to make any fishing experience memorable!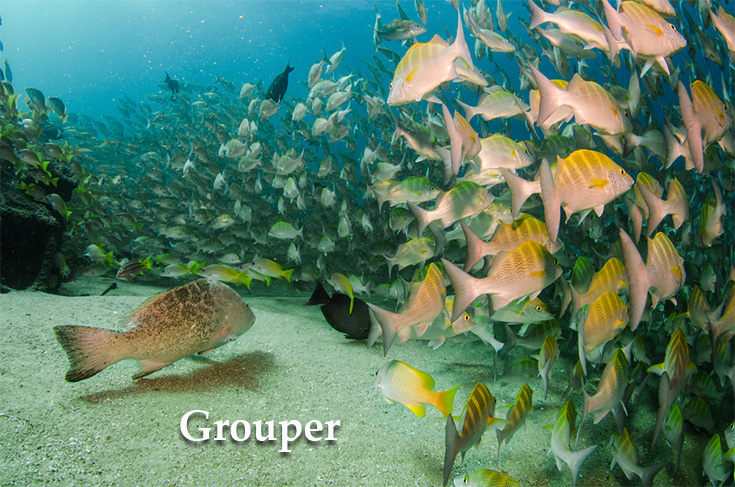 Hogfish
. Hogfish are also known as hog snapper. These colorful, interesting looking, and popular food fish are at risk of being overharvested. The state of Florida has set limits on harvesting them. Fishing for hogfish has been limited to summer and fall months, or from May through October. They are generally found on rocky bottoms, ledges and reefs offshore. They have long, hog-like snouts that allow them to feed on bottom-dwelling mollusks and crustaceans. Because they tend to root in the sediment in search of small prey, they can be difficult to catch on hook and line.