Sport fishing for Red Snapper is a great way to create memorable experiences, enjoy a day out of the office on a boat at sea, catch some GREAT fish, and put delicious fresh food on the table. There will be many peaks of excitement, along with the normal challenges that a day at sea presents. However, amazingly flavorful and fabulous whole or filleted, grilled and broiled, fresh Red Snapper is as good as it gets! When it comes to deep sea fishing, few fish meet the desirability of the Red Snapper. They are relatively easy to catch and they taste great!
Red Snapper can be found year-round, but the best season is definitely summertime. Red Snapper become more concentrated during this season because summer is their spawning season. Summer is also when the seas are at their calmest although all of the seasons can provide great opportunities for catching snapper. Red snapper don't tend to migrate far from their 'home' reefs and/or other types of structures once they establish them as their homes throughout the year. If you can find a reef or other structure in 60 to 200 feet of water, there's a very good chance that you will also find lots of snapper.
Red Snappers put up a fight, but they are somewhat predictable. They fight much in the same way as other snappers. For one, they make one strong pull when hooked, but after that, they fight with a series of violent head shakes until you reel them in. If you have the right gear, which should be pretty hefty, they won't be able to pull you into their structures during that first initial pull.
So now you have your catch. Looking for some great recipes for your snapper? We are providing two exceptional recipes from Craig Claiborne for what to do with all the snapper you just caught!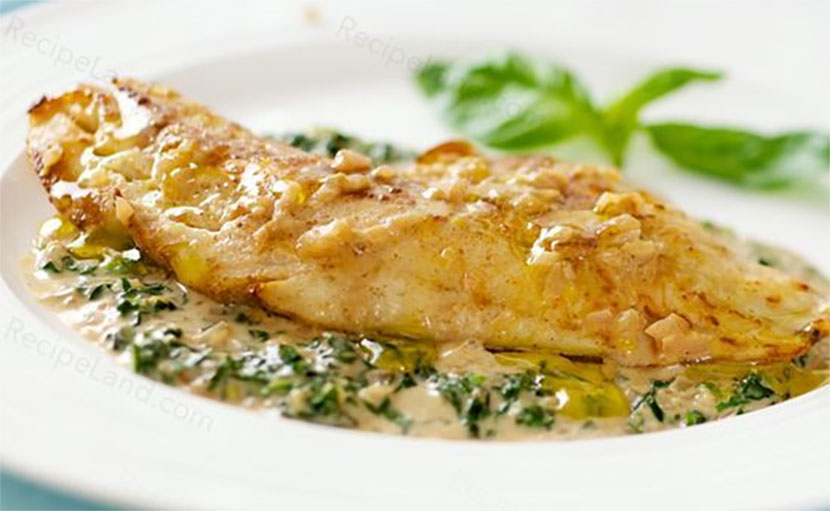 Baked Red Snapper - 6 servings
* 1 four-pound red snapper
* 1 teaspoon salt
* 1/4 teaspoon freshly ground black pepper
* 2/3 cup butter
* 1 small onion chopped
* 4 cups fine bread crumbs
* 1 cup shopped cucumber
* 2 teaspoons capers or chopped sour pickle
* 3/4 teaspoon powered sage
* 1/2 cup white wine
* Bacon slices
Baking Instructions
1. Preheat oven to hot (400 degrees F.)
2. Sprinkle the fish inside with salt and pepper.
3. In a skillet heat one third cup oof the butter, add the onion and brownlightly. Add the crumbs, cucumber, capers, sage and half the wine and mix. Stuff the fish with the mixture and close with skewers and string.
4. Place the fish in a well-greased shallow pan lined with foil. Cut gashes at one serving intervals and place a piece of bacon in each. Brush with the remaining butter and pour the remaining wine over the top.
5. Bake uncovered, until the fish flakes easily when tested with a fork,about 50 minutes. Baste frequently with the drippings in the pan or with additional butter and wine. Serve with the pan drippings seasoned to taste.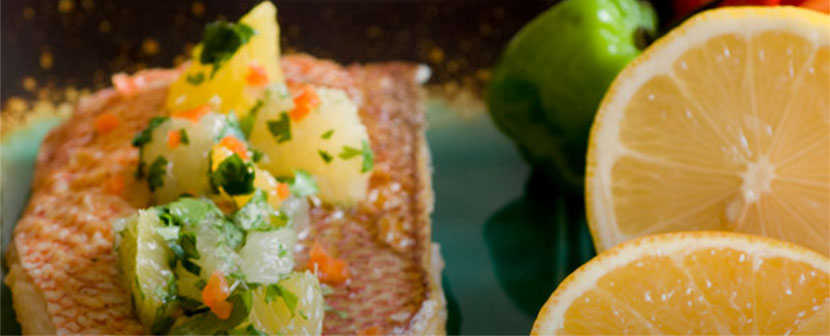 Baked Red Snapper with Grapefruit - 6 to 8 servings
* 1 four-to-five pound Red Snapper.
* Salt.
* 6 tablespoons butter.
* 1/2 small onion, minced.
* 1 cup stale bread crumbs or cubes.
* 1/2 cup fine cracker crumbs.
* 1/2 teaspoon basil or dill.
* 2 teaspoons chopped parsley.
* Freshly ground black pepper to taste.
* 1 grapefruit, sectioned, with its juice.
Baking Instructions
1. Preheat oven to hot (400 degrees F.)
2. Sprinkle the fish inside and out with salt.
3. In a skillet heat four tablespoons of the butter, add the onion and cook until it is transparent. Add the bread and cracker crumbs, the basil, parsley, % teaspoon salt and the pepper and mix. Stuff the fish with the mixture and close with skewers and string.
4. Place the fish in a greased, foiled lined pan and bake until it flakes easily with a fork, about fifty to sixty minutes. Brush frequently with the remaining butter, melted and mixed with the grapefruit juice. Three minutes before removing the fish from the oven, arrange the grapefruit sections on top and brush with the remaining mixture or additional butter.
ENJOY!